Military Models








Toys, Real vehicles, Planes, New pictures, Model timeline and Build log!







...and not forgetting...




WWII Allied vehicles. Click on pictures to view.

1/35 25 Pounder gun howitzer.
Tamiya 25 pounder and crew.
Limber holds the ammunition.
Year of construction: 1997

1/76 Ordnance QF 17 Pounder anti-tank gun and crew from AB Figures. Constructed 2013.

1/76 AEC Matador
Airfix model, given a fresh treatment by using desert sand as a paint scheme.
Note the added rolled up canvas flaps and side windows.
Also tried to detail the 5.5 inch hozitzer. Made in 1999.
First Matador build dates from about 1966!

1/76 Austin Ambulance.
Airfix kit from the RAF emergency set. Built around 1969!
This ambulance was also employed on the battlefield by the army.

1/76 Austin K 6 fire truck. Approximate year of construction: 1969.
Airfix kit from the RAF emergency set.
Approximate year of construction: 1969.

1/35 Bishop. (Purchased secondhand from my favorite book plus model store, Dan Webb Dan Webb ebay store )
Bishop - 1/35 Dragon. (Same kit as Macquette.)
This version is closed up for transport.
Exhibits a camo scheme from Tunisia.
Constructed 2012.

1/35 Bishop. (Paid roughly $10 in 2005 ordered from Aviapress in Moscow. Check out the price today! Not worth it - get the Bronco!)
1/35 Bishop by Macquette.
Loader figure has now been replaced
New figure added.
I detailed this model to closely match the inspiration picture.
This included bashing up the fenders!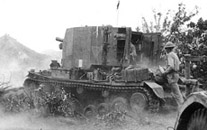 Inspiration picture, possibly taken in Sicily.

1/35 Bishop by Bronco
1/35 Bishop by Bronco.
A nice model but lots of small parts!
Has interior detail - all except engine
Tried to show inside - doesn't really work in the sun!

1/72 Bishop Mk I
ESCI Bishop
Added crew members from AB.
The Bishop mounted a 25 pounder in a tall housing on a Valentine chassis.
Built 1995 OOB.

Western Desert scene.
British army in the Western Desert.
25 pounder gun and crew, QUAD gun tractor , Daimler scout car and an M3 Grant.
All are 1/35 Tamiya.
There are closer shots of just the Grant on the WWII Allied Tanks page.
Figure painting is fairly basic here...
Built in 1997.

Airfix 1/32 'Multipose' Eighth Army
Trying to capture the classic desert images
Officer gets a helmet and no stripes as reflective of a combat situation
Tried to get the shorts hollowed out

1/35 Bren carrier with 6 pounder anti-tank gun.
British Universal carrier with 6 pounder anti-tank gun.
Crew is from 8th Army Tamiya figures modified to inhabit the carrier.
It is hard to get "non-action" pose figures.
Carrier and gun built OOB.
Built 1998.

1/35 6 pounder anti-tank gun.
1/35 Tamiya 6 pounder anti-tank gun with crew.
Some disparage the old Tamiya crew but after painting they seem to fit right in.
Dragon British/Commonwealth troops 1944 Normandy.
Getting better with figures but not an expert!
Gun was built in 1998 and figures added 2007.

1/76 Universal carrier.
Airfix Universal carrier with AB figures.
Towing bar was only added in 1944, so I axed the 6 pounder.
Nice to have a crew in there. Built in 2007.

1/72 Churchill AMRCR mine clearer
1/72 ESCI Churchill AMRCR mine clearer.
Nice to have a mine clearing vehicle.
The Churchill was the basis for many of Hobart's funnies as it provided a stable platform.
AMRCR stands for anti-mine reconnaissance castor roller.
Built OOB 1995.

1/76 Churchill AVRE with bridge
1/76 Matchbox Churchill AVRE with bridge
I replaced the winch with wire, and added weights inside the vehicle to counterbalance the weight of the bridge.
That winch on the back really winds and the thread goes through the pulleys and raises and lowers the bridge just like the real thing!
Built 1996 - didn't realize the turret was small - oh dear!

Chevrolet 30cwt truck.
1/35 Testors Chevrolet 30cwt truck
British used truck, Normandy 1944.
Made up some crates for a cargo.
Overall a fun build in 2013!

1/72 Daimler Mk II armoured car.
Hasegawa kit.
Approximate year of construction: 1996.

1/35 Daimler Mk II scout car.
Tamiya 1/35 kit
Built OOB
Made this in 1997

1/35 Dodge WC 63 1 1/2 ton truck.
Testors model, years old now!
Built as an exercise in 'mud'.
The wet-look mud looks a bit shiny in the bright sunlight!
Had to add the stowage of course to give it a used look.
2011 - $5 model from swap meet!

1/76 DUKW.
<
Airfix 1/76 DUKW
This is basically the stock model though I did add a "canvas" cover for the cab.
Amphibious vehicle used in Italy, Normandy and beyond.
Model built around 1971.

1/72 GMC truck.
Hasegawa kit built in 2004.
I added a chain, 'canvas' to the top with ties, windshield glass, wipers, rear-view mirror and a full load of boxes in the rear!

1/87 M8 armored car.
This a Roco minitanks Greyhound model
Painted up around 1968!

1/32 Humber staff car.
Airfix 1/32 Monty's Humber
Makes a nice change from armour.
Fun build.
Little waving Monty figure :-)

1/76 Humber armoured car
Matchbox Humber armoured car.
Added lots of extra stowage to.
This gives the model more character.
It also makes it a more accurate representation of a desert Humber.
Approximate year of construction: 1997 with added details 2007.

1/35 Special Air Service Jeep
Tamiya SAS Jeep built 2009.
Used for deep desert reconaisance and to harass the enemy.
Essential supplies had to be carried: gas and water of course, also plenty of ammunition.
...spare wheels, sand channels, camouflage net, food and a sun compass.
SAS personnel in the desert wore beards and adopted arab headresses.

1/76 SAS Jeep
European style SAS Jeep
This is a tiny little model, so these pictures are really huge.
extra fuel tanks and funky little windshields.
Fujimi 1/76 Jeep
Built around 2007.

1/72 Jeep
Academy 1/72 Jeep.
I decided to go very beat-up look on this one.
Constructed in 2007.
Relaxing Doughboy from AB.

1/35 Quad gun tractor.
Tamiya Quad gun tractor.
Hand painted 'Mickey Mouse' camoflage to get the hard edges.
Get one for your 25 pounder. Still the only game in town!
Approximate year of construction: 1997.

D-Day 65th anniversary June 6 2009
DD Landing scene
1/72 D-Day scene with Airfix/Heller LCVP.
Troops are mostly Italeri US Infantry.
A few are ESCI and Revell paratroopers to mix it up.
Higgins boat with an entire 36-man squad unloading onto a contested Normandy beach!
Typically these squads included 2 bazookas and 2 mortars
For reasons of fitting on a shelf I elected to make a very compact diorama, so if you look at this thinking my these guys are all bunched up, you are right!
Tried to blend in with real sea.

1/76 LCM III.
Airfix Landing craft mechanized. Need a better picture!
One of the many landing vehicles used on D-day and also employed after the war. built 2001.

1/35 Long Range Desert Patrol Chevrolet truck.
Tamiya
This seems to be a popular subject.
Lots of detial added, though real trucks were often loaded heavily.
Built 2004.

1/76 LVT(A)-2 (Landing Vehicle Tracked).
Airfix LVT4 Water Buffalo converted to an earlier model with rear-mounted engine and no rear ramp.
The 'A' in the LVT(A)-2 designation means "armored".
Armor plate was added, increasing the weight of the vehicle and decreasing capacity.
Built 1970!

1/76 LVT4.
Airfix kit suitably accurized and with a crew mostly from AB Figures.
Fujimi Jeep replaces Airfix Jeep
Vehicle in British service with Polsten canon.
Made this around 2003.

1/35 M3A1 Scout car by Zvezda
1/35 M3A1 Scout car by Zvezda. Jerry cans and machine guns (worst parts of this old kit) not used!
This model seems to come alive in desert sand! Some of those jerry cans on the back don't seem like any I had - but match the picture!
This is a Canadian vehicle - I think!
Lots of stowage and radios added - this is a 'command' variant (note huge antenna)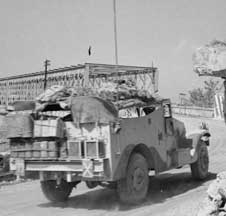 Inspiration picture, tagged as Sicily.

1/72 M10
1/72 Armourfast M10 - made in England!
Early M10 used in North Africa.
The Armourfast kit is very basic as I'm sure you know but that gives you, the modeler a chance to add all the details!
One-piece tracks OK, at least as long as you want rubber block tracks.
Figures are from AB. Approximate year of construction: 2006
You may be able to see the interior I drilled out and detailed!

M10 mid production with riders. Just about all Shermans late in the war in Europe had end connectors fitted. They actually had them made up locally as the demand was so high.
1/72 Armourfast with figures
End connectors addded to the tracks.
Yes I know Armourfast has clunky tracks but try adding end connectors to vinyl tracks in 1/72!
Figures are mainly AB with at least one Hasegawa in there.
Note how the front hatch was drilled out and the open hatch scatch built.
Interior details and tools added to the rear.
Showing interior details added

M10 with turret cover.
M10 with cover that was developed for the turret.
Not sure if any made it into service. Some covers were made in the field.
Constructed 2013. Going for a clean but weathered look to match reference picture.
1/72 Armourfast M10 with the addition of a hard cover.

M10 Achilles.
1/72 Armourfast with ESCI M12 suspension.
Figures from AB. (Originally driver figures but I needed the helmets.)
Made this in 2013.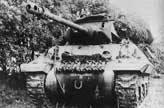 Inspiration. Glengarry II picture from the web. (Forgot which site sorry!)

1/72 M12
ESCI 1/72 M12 self propelled gun.
I like to make models of Shermans and their variants.
Got to balance all that German armour that gets modeled!
Cheerio!
Approximate year of construction: 1996.

M12 Gun Motor Carriage
1/72 ESCI M12 with lots of added detail.
The front of the gun was rebuilt as the kit gun was way too small!
M12s were produced early in the war, sat around a while and then hurriedly refurbished for combat.

M30 Ammunition carrier.
Model is based on the ESCII 1/72 but with Armourfast suspension
These were built to supply the M12.
The basic vehicle was the same as the M12.
Top view showing stacked shells.
Build shot.
Build shot from 2013.

M3 halftrack (Airfix 1/76) with a scratch built Morris truck. This is rather early model so don't look too closely! Actually it is OK, but is a stock kit with no embelishments. Interestingly the Airfix kit no longer comes with the canvas top. Approximate year of construction: 1966 and 1969.


1/76 M36 tank destroyer. This 1/76 Fujimi kit gave me a few problems, but the end result looks good. First off is the machine gun in the bow - it shouldn't be there! Since I wanted to capture the clean front look of the M36 I covered the bow with plastic sheet. Then I had to add another piece of card and blend it into the nose. The bolts were added and the light guards were overscale so I replaced them too. The wheels were really small so I replaced them with wheels resin-cast from a Matchbox M7. The vehicle I was modeling had these spoke wheels anyway. The gun was all wrong! I replaced it with a plain plastic tube. Although the M36 could be fitted with a muzzle brake this is rarely seen in photos. The mantlet needed reshaping too. I made good use of British and American tanks of World War Two (Chamberlain and Ellis) and the Squadron/Signal US Tank Destroyers in Action book. I based this vehicle on the one shown in the Sqaudron/Signal book, page 39, top left, which shows an M36 of the 607th TD Battalion in the French town of Metz in November 1944. Note the bucket on the right side of the mantlet! I notice a lot of tanks have buckets in photos - this is the first time I've tried adding one to a model. One experiment on this model was to paint on the straps on all those tarps/bedrolls in an attempt to get in-scale straps, but I'm not sure I like the result. I think I prefer the definition of adding thin card or paper straps even if strictly speaking this is often over-scale in 1/76. Approximate year of construction: 2003.

M4A1 Sherman with T34 Rocket Launcher. Also known as Calliope. Another exciting Sherman variant from ESCI. I love the massive firepower on display here and would not want to be on the receiving end! Approximate year of construction: 1996.

Hasegawa 1/72 M5 artillery tractor and towed 155mm gun. The M5 was based on an M3 light tank chassis. Figures were added from various soft plastic sources. Approximate year of construction: 1997.

M7 Priest 105 HMC (Howitzer Motor Carriage), early model. This is the Matchbox 1/76 model finished as a British vehicle in Tunisia. The inspiration for the mixed headgear of the crew came from a painting on the back cover of "US Self-propelled Guns in action", Squadron Signal armor publication number 38. The capped members are from the Airfix RAF personnel figure set, while the helmeted members are ESCI/ERTL 1/72 British WWII soldiers trimmed of their guns. Approximate year of construction: 1998.

Monty's caravan and Humber scout car. (Matchbox 1/76) Monty actually took over an Italian general's caravan and had it mounted on a British truck chassis. (Cheeky b*gger!) Approximate year of construction: 1998.

Scratch-built Morris truck. This uses Airfix QUAD wheels and engine hood with a body from plastic card. This scratch project was featured in an issue of Airfix magazine. (Don't know which one, this was in the 1960's...) Approximate year of construction: 1969.

Here we have a nice Matchbox (1/76) Morris C8 Mk II truck towing a 17 pounder gun. A Willys jeep is rounding the corner. Approximate year of construction: 1997.

QUAD tractor and 25 pounder. The original Airfix with additional detailing. Note the upward opening windscreen. The top of the gun shield was folded down when in transit. Approximate year of construction: 1999.

Diamond T tractor with Rodgers tank transporter trailer and Matilda tank. This uses some - I think they were Revell 8th army figures to add some life to this transporter. Dang man! The driver looks like he's giving the finger! I'm telling you, I ALWAYS notice something on these pictures that I hve never seen before. The tank engine is curtesy of Fujimi. I think the oil drum was from an ESCI Opel truck. Oh, I tried to use 'Crystal Clear' on the windows, but it's hard to make it dry flat. Approximate year of construction: 1998.

Scammel tank transporter (Airfix 1/76) also shown with a Matchbox Comet. This model was made when I was a kid and was one of the first "serious" painting jobs with carefully applied camouflage. The painting job is good and overall the model does not look out of place today with my other models. (Notice no window glazing and ugly join line on tires though!) Airfix have re-released this kit and a desert sand would make a nice contrast to this European version. Approximate year of construction: 1964.

Sherman BARV - beach armored recovery vehicle. One of Hobart's "funnies", the BARV was designed to be able to wade in the surf and push flondering vehicles onto the shore. I made this model years ago so you may see some join lines or filler in evidence! All-in-all not a bad representation however. This conversion was detailed in a copy of Airfix magazine. Approximate year of construction: 1969.

Tamiya 1/35 T16 halftrack with AAA gun being serviced by an M32 recovery tank (Italeri 1/35). One of the crew is checking out an abandoned BMW motorcycle. Crew was modifed from Tamiya US troops. This diorama came from my imagination, rather than a reference photo. I had the M32 and M16 models and thought - why not? It was also a chance to do a scene in a maintenance yard type of setting as opposed to a combat diorama. I had already done a desert scene and a woodland scene, so I used some Tamiya bricks (brick wall set I believe) to make the corner of the building. I read that this particular model of Sherman, with the later style angled front hatches was not converted to a recovery vehicle, at least during WWII. This is a shame if true because otherwise I was very impressed with this kit. I hadn't thought to check on that, but I suppose it makes sense as it is usually the earlier versions of AFVs that are converted into recovery vehicles. So if that is true you would need to find an earlier model M4A1 hull to combine with the Italeri kit to make an accurate WWII model. The pictures I could find do show the earlier hatches, but that doesn't altogether preclude this version. Also, I believe both these vehicles served in Korea. Approximate year of construction: 1999.

M3 75mm GMC (Gun Motor Carriage). Initially known as the T12, the M3 GMC mounted a M1897A 75mm field gun. This early conversion shows a vehicle supplied to the British. The conversion details came from Airfix magazine - I have no idea which issue. I no longer have the mags. I believe this also features Almarks decals. Approximate year of construction: 1968.

Airfix halftrack finished as an M9 in British service. The M9 was basically the same as the M3 but made by International and had the flat fenders so noticeable on the Airfix kit. I rounded the rear corners to better represent the M9. The kit has the cab all closed up so I had to rebuild the front to show the armour open which is way more common (at least in photographs!). As I was modeling a road-travelling vehicle and not a battling one, the open cab was the way to go. Seated Tommies were from AB figures and as usual go a long way to spice up this old kit! I risk showing them in close up - my figure painting is pretty basic in this scale but I wanted to show how each figure is unique, not a bunch of seated dummies. Just don't forget these guys are little! You are probably seeing them here about 15 times larger than life!!




Pages on this site:
Home Page
World War One vehicles
This Page: World War Two Allied vehicles
World War Two Allied tanks
World War Two Axis vehicles
World War Two Soviet vehicles
Post World War Two vehicles
Real Tank pictures
Toy tanks
Aircraft
New Pictures
Chronological listing
Build Logs