Military Models








Toys, Real vehicles, Planes, New pictures, Model timeline and Build log!







...and not forgetting...




Post WWII.

1/35 Accurate Armour Abbot Self Propelled 105mm gun
1/35 Abbot - Accurate Armour
First full resin kit for me.
Finished as an early Abbot with floatation screen
and rather glossy dark green paint!
Figures adapted from Miniart, Tamiya etc.

1/35 Abbot self-propelled gun.
Nichimo Abbot self-propelled gun.
Abbot with some Britain's swoppet figures in the back yard.
This was the first 1/35 model I ever built - 1965!

1/35 Abbot prototype
Ancient model rescued from scrap heap!
I decided to spruce up this old model and make into a passable Abbot prototype.
Tracks were donated from Zvezda ISU 152 model and 'rubber' pads added.
Restored in 2011.
Figure from various sources with head and beret from Airfix multipose 8th Army.
Sprucing up the old, old model!
Lots of epoxy putty in the hull - the old gal was cracking up.


1/87 French AMX30.
This model is a conversion from the Roco Minitanks prototype model to a production model AMX30.
Designed in the 1960's it entered French service in 1967.
Approximate year of construction: 1975; of completion: 1995!
That's 20 years to complete one model !!!

1/35 AS90
AS90 artillery system.
Modern British.
Trumpeter kit with Accurate Armour upgrade for 52 cal version.
Also Lionroar PE.
Built 2012.

1/87 BW HS-30 SS-11 Rocket Carrier.
Roco BW HS-30 SS-11 Rocket Carrier.
West German
Built around 1970.
Low silhouette vehicle.

1/35 C1 Ariete from Trumpeter
C1 Ariete uparmored
C1 Ariete uparmored
C1 Ariete uparmored
C1 Ariete uparmored
C1 Ariete uparmored
C1 Ariete uparmored
C1 Ariete uparmored

1/25 Centurion Mk III. This is the kit with at least some interior detail. Constructed in 2013
Tamiya 1/25 Centurion Mk III.
External appearance of tank.
All handles replaced. So much easier to do in 1/25!
On my mark. Fire!
Removal of side shield shows how the suspension can articulate.
Front view showing driver in raised seat position.
Removal of the turret roof reveals the loader on the right hand side, in front of the commander's seat.
He would normally be peering through a periscope sight, which is attached to the inside roof of the turret. (Not shown here.)
On the left side is the loader.
Rolls Royce Meteor engine. Radiators to the right.
Fighting compartment with turret removed.
The driver is located on the front right - to the left of him are the water tank (black) and ammunition stowage behind the partially opened doors.
Finally a view looking forward at the engine.
Note that, strangely, the Tamiya kit includes only the driver and commander figures. I had to convert 2 of the infantry figures to complete the crew. On the view looking forward at the engine, to the right of the engine is a fuel tank, and to the left of the main engine is the auxillary power unit (aka Morris car engine). The two circular objects at middle right and left are the tops of the air filters. Below them are the coolant reservoir and the radiators. Beneath the radiators on a real Centurion would lie the transmission.
| | | | | | | | |
| --- | --- | --- | --- | --- | --- | --- | --- |
| | | | | | | | |
| View into right side of turret under construction. Shows detail added which is hard to photograph after completion. | View from below to upper right side of turret under construction. | Detail added to turret roof. | Detail added to inside of commander's cupola. | Scratch built gunner's sight. | Some more turret detail on the roof. Not even sure what it is! Probably links the sights to the main gun elevation. | View to rear of turret showing the hatch detail added to the inside of the turret. | Detail added to engine. |

1/76 Centurion MK 8
New build of the Airfix Centurion tank.
This replaces my ancient model that was suffering from track melt!
(The Airfix Centurion tank was released in 1964.)
The original model from 1965 shown on model landscape.

1/35 Centurion Mk III
The Tamiya Centurion.
Originally built in 2002, this has been enhanced in 2012.
Tracks and other details from AFV club Centurion parts left over from a Shot Kal build.
I also added new tarps, jerry can, aerial mount and such.
Nice chunky tank!

1/76 REME Centurion
British Centurion engineer vehicle, converted from the Airfix kit.
Original build from 1969.
Update of original conversion.
No one uses those bundles of wood any more - now it's PVC pipe!
I must say I really like this update!
I built the original 41 years ago and finally it looks the part!
Still lookin' good!

1/35 Centurion Shot Kal (1973).
AFV Club - 1/35 Centurion Shot Kal (1973).
I repaced the rather soft kit tracks with AFV club hard plastic tracks.
Note the bright pink aerial recognition cloth
Kit came with a metal barrel - no seam and perfectly round - nice!
Rear deck is distinctive.

1/35 Challenger
British Challenger, Gulf War.
This is the Tamiya 1/35 with DML Desert rat troops.
This is pretty much a straight build.
Built around 1999.

1/35 Challenger II.
British Challenger II.
This is the HobbyCraft (aka Trumpeter) 1/35 model.
There were some problems to correct, but then I didn't pay too much!
The figure was a left over from my Tamiya Challenger I, which used the supplied commander in desert garb.
BATUS colours
1/35 Challenger II build.
Front mudguards
Rear axle repositioned and detailed.
Detailing added to rear axle mount.
See the reinforcement I had to do on the inside?
Respositioned smoke dispensers and rear fuel caps.
Padding added to the open commanders hatch.

1/87 Chieftain prototype
Chieftain prototype, from Roco minitanks.
This model has had a complete overhaul and detailing for 2009.
I left the canvas off the turret front, so you can appreciate my re-shaping!
When first shown to the public, Chieftain had a false hull front, shown here.
Basically, anything not green I added.!/td>
Rebuilt the turret front.
Temporary exhuast in the rear.
1/76 Chieftain
At last the Airfix Chieftain, contructed 2009.
I did this one the old fashioned way and hand painted.
Figures are from AB
I scratch built the turret basket from wire, stretched sprue and net.
1/25 Chieftain prototype.
Tamiya 1/25 Chieftain prototype
Built as a fun build complete with original motorization.
Added the barrel lagging.
Mean MBT of the old school.
1/35 Chieftain
There is an excellent article which can be found here: IPMS Ottawa Poststrike April 2003 on upgrading to later marks
Here's my production Chieftain, an OOB Tamiya 1/35 model built around 1996.
This very dark green was what I remember from seeing Chieftains in Britain.
It also had a slight gloss to it, which I understand is easier to keep clean than a pure matt finish and thus is common practice in peacetime.
Chieftains on wargames are more usually seen in a matt camouflage scheme, and that might be what you are used to seeing, hence my note on the color!
1/35 Chieftain Mk11
Takom 1/35 Chieftain Mk11
Had a few minor challenges with the build.
..but I don't want a bitch session here!
I'm excited to have a Chieftain Mk11 !!!
I left all hatches un-glued in case I end up fitting crew figures - kinda wants them, doesn't it?

1/87 Conqueror
This Roco Minitanks was detailed from sketches taken from the Conqueror on display at Bovington Camp, UK. Approximate year of construction: 1971.
This was Britain's post war response to Germany's Tiger tanks and Russia's JS III.
It was intended to supplement the Centurions then in service and provide the ability to knock out any tank at extreme range.
It was too heavy, but pioneered a 120mm gun which was later used in the Chieftain tank.
The Chieftain itself was heavy and this in turn led to the development of Chobham armour as a way of increasing protection but reducing weight.

1/87 Hemag truck.
Roco Minitank model.
I don't know much more about this vehicle!
Looks very different with the top off.
Approximate year of painting: 1970.

1/87 Honest John
US Honest John battlefield missile. The Honest John was a simple, free-flight rocket capable of delivering a nuclear warhead.
This highly mobile system was designed to fire like conventional artillery in battlefield areas.
This is the Roco Minitanks model and for some strange reason has always been one of my favorites,
maybe because it was first deployed in 1954 , the year of my birth. Painted 1969.

1/35 Land Rover Ambulance.
This is the Tamiya kit with desert tires from the SAS 'Pink Panther' kit.
Since I inherited the desert tires after doing the European SAS Land Rover I decided desert color scheme was the way to go.
So yeah, I kinda flipped the 2 Tamiya kits just so I wouldn't be building the same as everyone else really
Hard to find info on this one so it's not really based on an original prototype
- I just figured that at some point a pot of sand colored paint would get used.
Constructed in 2010.

1/35 SAS Land Rover
Check out this site: Land Rover Pink Panthers
SAS Land Rover in European colors.
Tamiya SAS Land Rover with tires donated from a Rover 7 ambulance kit and a bunch of added kit.
Yes, there's a Land Rover somewhere under all that clobber
The SAS 'Pink Panther' Land Rover is famous but SAS Land Rovers also appeared in European colors.
Constructed in 2010.

1/76 LWB Land Rover with trailer.
JB Models LWB Land Rover with trailer.
Tiny model! Added glazing as kit was thick.
LWB Land Rover with trailer. Built 2011.
Ancient Airfix Land Rover restored.
Original was built around 1964? Restored 2011.
SWB Airfix together with LWB AB - now also Airfix!

1/35 Leopard 1.
West German Leopard 1 tank. Tamiya 1/35 model.
The Leopard 1 was first produced in 1963 by Krauss-Maffei for the German Ministry of Defence.
Leopard 1, in the sun.
Approximate year of construction: 1996.

1/35 Gepard
Gepard AA tank. Tamiya, 1/35, with lengthened chassis and added details.
For a $5 swap-meet purchase I think it came out great!
Paint scheme inspired by Gepard posted to Crete.
Check me out!
Built 2012.
Gepard build.
Behind the scenes build pictures for those who are interested.
I built this as a "fun build", but it came out quite well
Notice the lengthened hull, filling of the notorious Tamiya open sponsons and non-slip areas (gloss paint and very fine sand)
You might want to consider getting a PE set for this one.

1/35 Leopard 1A5.
Leopard 1A5. Revell 1/35
'Stole' one figure from the Gepard.
Leopard 1A5.
Leopard 1A5.
Built 2012.

1/35 Leopard 2A4.
Revell Leopard 2A4.
A chance to try out my air brush and also do something more modern for a change!
And use lots of mud - yummy!
Year of construction: 2008.

1/72 Revell Bruckenleger Bieber
1/72 Revell Bruckenleger Bieber
Bridgelayer tank on Leopard chassis
Tools look a bit flat - wish I'd replaced them now.
I thought they would maybe paint up OK like an old Roco Minitanks!

1/87 Marder IFV.
For the first time in many years, a Roco Minitanks model!
West German Marder IFV.
Added the gun-thing on the back.
This was constructed in 2011.

Late production M7 as used in Korea in 1/76 scale.
A bit of a cobbled together kit this with Matchbox M7 and Fujimi M4 suspension. I tried to make the road wheels solid disk. My reference pic had riders so I cobbled some together from various bits of hard plastic figures. (No more nice AB figures for this one :-( )Kinda hard to position them too so they barely work. I'm scraping the bottom of the small scale Sherman based vehicles barrel here - but I got 'em all built!
Matchbox M7 with Fujimi M4 suspension.
Plastic figures don't look so hot, at least not in close up.
Details added
The gun replaced - much too small!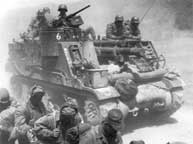 Inspiration

1/87 M107
M107 self propelled artillery. Roco Minitanks model, made in 2001
In use by the British in the Gulf War and that inspired me to paint this up.
Note canvas covers the hydralic arms.

1/87 M1064/A3 Mortar Carrier
This is a Roco M1064/A3 Mortar Carrier,
based on the M113 chassis.
Approximate year of painting: 1968.
You can see the mortar through the rear door.
.. and the open top.

This is the M4 Lacrosse SRBM (missile) on XM398 launcher.
The Lacrosse was an SRBM (Short-Range Ballistic Missile) briefly deployed by the U.S. Army in the late 1950s, designed for close support of ground troops. It was designed for very high accuracy, but the technology of the day wasn't quite up to the task, and so the missile was not very successful in service.
Roco Minitanks model.
Approximate year of construction: 1971.

1/35 M48
M48 tank. Tamiya 1/35. Straight build with the supplied tank crew.
Developed from the M47 "General Patton" tank, the M48 was the mainstay of the US Army and Marines in Vietnam.
Some 11,703 M48s were built between 1952 and 1959.
Approximate year of construction: 1997. New pictures 2012.

1/87 M48 AVLB
I have this as an M48 AVLB - Armored Vehicle Launched Bridge, from Roco Minitanks.
Bridge looks to be short...
...but I have discovered that there was a short version...
...and an extended longer version.
Model actually operates!
Fully extended!
Approximate year of painting: 1968.

1.87 M55
Roco Minitanks model
US M55 203mm, though I usually see pictures of it without the muzzle brake.
The M53 had a longer gun barrel and the M52 had a shorter one!
Approximate year of construction: 1971.

1/87 M60
The mighty M60 MBT. Roco Minitanks model with added detail. 1971.
The turret basket was painstakingly built with stretched sprue, and has almost survived the years
The figure is a pilot from the Airfix RAF personnel set - the helmet giving the right look for a US tank crew!
Although much maligned by armchair critics, this is one serious tank.

1/35 IDF M60A1
Israeli Defence Force M60A1 with reactive armour.
1/35 AMT model.
Oh Yeah!
Year of construction: 2008.

1/87 Saladin.
Roco Minitanks model.
Saladin. British armoured car.
Approximate year of construction: 1971

1/76 Scorpion Airfix
Scorpion
Scorpion
Scorpion
Scorpion

1/25 SU100
For a bit of fun here is the Tamiya 1/25 SU100 - the original model from 1967 with motor and everything.
I finished it as the example from Bovington from the sixties.
They have since added more "smiley faces".
The weight of the batteries and the fact that there are little metal springs in the suspension explain the rather low-rider look of the model!

1/35 SU100
Soviet SU100. I read that these vehicles were used after the second World War by Syria
so I copied a really funky desert paint scheme (or very worn paint?) from a photo I had of a Syrian T54.
You can tell this is a post-war model by the stowage bin on the front.
Friul tracks on restored Ancient Tamiya SU100. Original had motors and rubber tracks.
Restoration 2004.

1/35 Tamiya Japanese Type 61
1/35 Tamiya Japanese Type 61. Modelkasten tracks added a lot!
Added crew figure (mostly Miniart British Tank Crew!)
Tamiya's figure proved to be unsalvagable - even by MY low standards!
MG replaced by one from Academy

1/35 T54-2
T54-2 Syrian tank around 1970.
This would be an early Soviet T54 reconditioned for export as evidenced by the upgraded gun and roadwheels.
Out in the desert.
Hot and dry...
Built 2012 using ESCI
cut out from a Sunday paper color supplement.

For the modelers out there (modellers if you are in the UK) here are some contruction pics showing how I modified the base ESCI kit.

1/87 T54
Soviet T54.
Roco Minitanks model with detailing.
Approximate year of construction: 1968.

1/35 T62
Soviet T62 tank with desert camo as used by Egypt.
This is the Tamiya 1/35 model with re-worked turret.
Long range fuel tanks fitted.
Airbrush camo
Year of construction 2007.

1/35 T72
T72 tank in use by Syria.
This was an inexpensive kit by AMT/Ertl.
It was a pretty simple kit but builds up quite nicely.
I did do some turret reshaping!
Approximate year of construction: 1997. New Pictures 2012.

1/35 T80 UD
1/35 Revell T80 UD. You know, I think I like making 'dog' kits! :-)
Worst part of the kit are the wheels. I used a rotary tool on these! What? Resin wheels on a $15 kit? Pfft!
Not perfect, but much better, and a whole lot cheaper! I mean, I paid 15 freekin' bucks! 1/72 kits now go for that or much higher!
I really liked the camo on this one. Turret spruced up. Everyone says the gun is too big. Oh Yeah? Looks fine to me! (I think they are comparing un-lagged to lagged versions...)